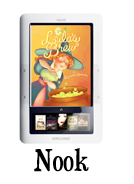 So last week I announced that I converted my picture book app,
LULA'S BREW
, into a .pdf for download to
The Illustrated Section
and various electronic devices... and a
Nook color picture book
. I got you started on preparing your files for the process. Here's the rest...
The latest buzz is that Adobe InDesign 5 (CS5) can convert files to .epub. VonLogan's tutorial will walk you through this step-by-step, so you'll need to download it from Will Terry's blog. My first glitch was that I only have ID4 (CS4), but turns out, it can do it too. The only difference is, when I went to save, rather than "save as .epub," it said "Export Book for Digital Editions" (wait for it = .epub). It did crash the program, but it gave me the file I needed. So, okay.
The trick with picture books is you have to create a new document in ID for every page, which is what forces page turns in what would otherwise be flowing text for a typical .epub file. Those documents can then be converted into an .epub "book." However, there is some coding in those files that needs to be tweaked to get the images to show up full-screen on a Nook.
By converting the .epub file to a .zip file (by changing the suffix), you can open the separate documents and change the code in the templates. Follow VonLogan directions meticulously. And be sure to use a text program that doesn't have "smart quotes" on as all those reversed quotes can negate the html commands. (He used WordPress on a PC; I used Dreamweaver on a Mac.) You also have to save a cover file into the master folder, then convert the folder back to .epub from .zip (I used WinZip for Mac to get what I needed, although you could also use Stuffit).
The next step was to create an account through Barnes & Noble's PubIt! site (accessed through their main page). You will need an associated bank account to which any profits can be directed. (I opened an account especially for Paypal and transactions such as these, rather than allow access to my main bank account.) I plugged in all the information (setting my book for the 3-5 age range), uploaded my file, previewed the document online and hit "Sell Now."
With an already existing book, the entire process took me about two days - mostly because I didn't know what I was doing. I imagine a day or less would work once a comfort zone is established. Granted, with Tom Gilson's reasonable rates, you may rather hire him to do the techie stuff, but I wanted to get a full idea of the beastie.
It took one day to go live on Barnes and Noble.com, and you can now find LULA'S BREW HERE at B&N (or just search "Lula's Brew"). The only down side? I have an iPhone, iPad, and a Kindle, but I don't own a Nook color! Here's hoping lots of people do...
- Elizabeth O. Dulemba
Click here to read part 1.