Last Fall I spoke to an elementary school in Auburn, Alabama. As usual, I asked the media specialist if she wanted me to concentrate on one of my titles to tie in with school activities.
"Yes," she said. "
Lula's Brew
. I've been sharing it with the kids and they love it." They even used one of my
coloring pages
to get fired up about Lula and my visit to their school. Aren't these cute?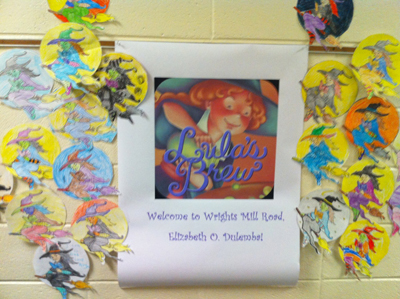 One hiccup, Lula's Brew is an
app
. How in the world was she sharing it with the classrooms of 20 kids or more, especially considering one of the biggest arguments against eReaders was that you couldn't share them with a group?
Turns out, she used a projector to broadcast Lula's Brew from her iPhone to the library's Smart Board. And then she'd read along. So for my visit, she projected the iPhone version onto the Smart Board behind me, while I shared the iPad version which I held and read. Sadly, I didn't get a photo of the reading in progress, but you can see the set-up in this shot.
Thing is, the kids responded as if this were all perfectly normal. They didn't sprout green scales or spin their heads around, they just enjoyed the story. They seemed to have no idea they were making history. -
Elizabeth O. Dulemba